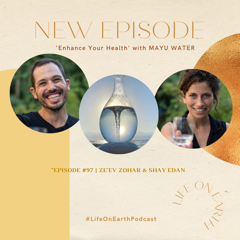 Welcome to Episode 97 of Life On Earth Podcast.
Thank you for listening to the show!
Share this episode with someone you love and will benefit from this information.
This episode is all about water, the importance of clean water from a sustainable source.
You will learn how water can benefit you and heal you on a cellular level.
What's the best water for our homes and which water is best for our children ?
Mayu water bottle is not only beautiful and pleasing to the eyes, but also
an innovative water pitcher to enhance your water.
The swirling motion naturally aerates the water to improve its quality and taste.
There is no life where there is no water. 
The quality of the water you drink is correlated with longevity in life.
Join your host Nathalie Croix and the founders of Mayu Water : Ze'ev Zohar & Shay Edan. They will break all water related things down for us today, the science, the facts and the fundamentals for optimal health and the quality of water we are putting in our bodies. 
Grab your Mayu Water bottle today mayuwater.com
Follow Mayu on Instagram @Mayuwater
This episode is brought to you by the one and only
Start your Yoga Teacher Training today with shantiyogatrainingschool.com
We offer 200 and 300 hour yoga certification programs online and in person.
Shanti Yoga Training School is a Yoga Alliance Registered School with over 20 years of experience. 
As a leader in yoga training and certifications, we are proud to have worked with and certified some of the industry's top yoga teachers, not limited to the US, but also internationally.
Enroll in one of our trainings today.
Follow us on Instagram
Subscribe to our newsletter HERE and stay current on events and special offers.
Follow us on Apple Podcast and all your favorite podcast platforms, and don't forget IHeartRadio. 
Ask Alexa ... " Alexa Play Life On Earth Podcast" !
Peace !